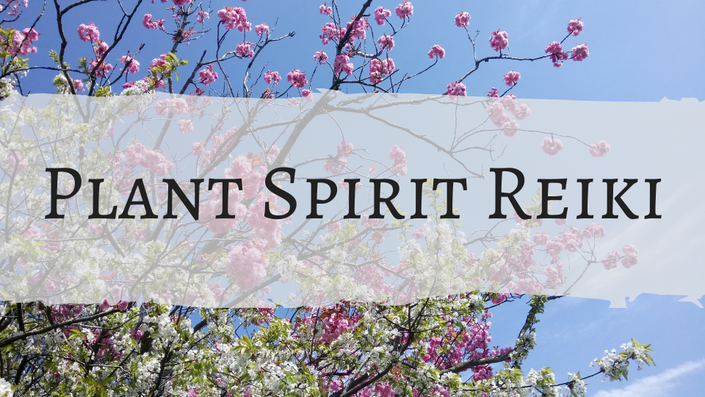 Are you are Reiki Practitioner that feels called by the natural world?

This training invites you to transform your Reiki practice with the power of plants, increase your intuition and experience healing from the elements of nature.
This self-paced online course is for anyone attuned to Reiki who wishes to incorporate intuitive plant healing into their Reiki practice and personal healing journey.
The course teaches:

Guided Reiki meditations

Plant Spirit Reiki practices

Practical exercises with plants in your home, garden, local park or woodland.

You will:

Learn how to work with plants intuitively as spirit helpers for your Reiki practice so that you can all on them to assist and guide you .
Receive personal healing from a plant ally so that you can step into your role as an earth conscious healer
Hone your intuitive skills so that you can feel more confident in your inner wisdom and make clearer decisions about your path
Practice Plant Spirit Reiki connection, self-healing and healing for the natural environment so that you can feel more supported on your Reiki journey and energised by the frequency of nature.
Also includes:

Reiki Nature attunement to open your connection to nature, strengthen your connection to reiki and help you act as a stronger channel for the plants and the natural kingdom.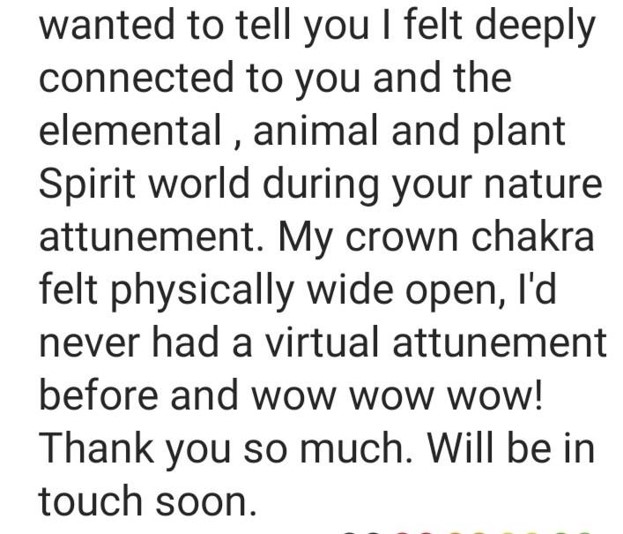 Before you enrol...

Have you purchased Fay's book Plant Spirit Reiki?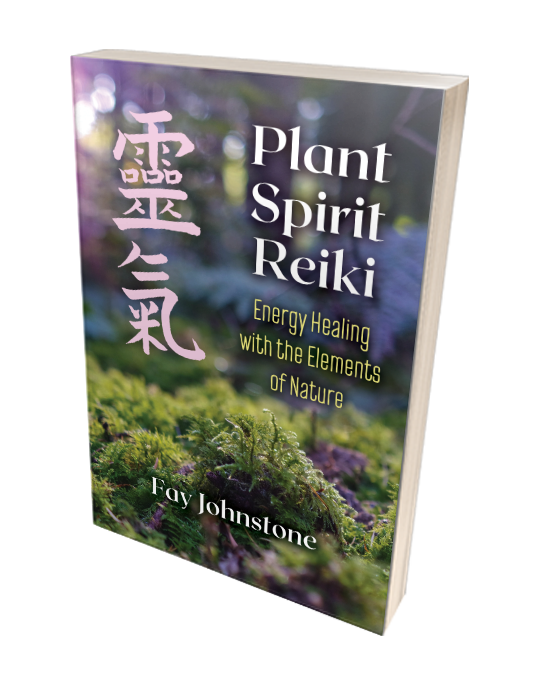 Everyone who purchases a copy of the book is eligible for the following bonus

Bonus: 20% discount off this course! (Value $40)

How to claim your Bonus

1) Purchase your book: Amazon UK, Amazon US, Barnes & Noble, Inner Traditions

2) Contact Fay here with preorder in the subject line and your book receipt and an email will be sent to you with the details! These will be reviewed manually so please allow some time for response.
3) Enrol below on this course (using your 20% discount code!)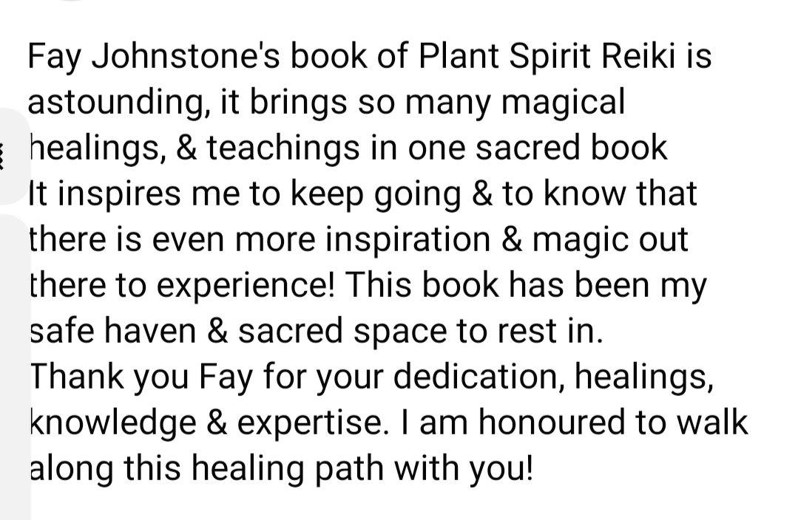 Nature based therapy, plant medicine and Reiki are each powerful, holistic methods of healing, when used together their power expands and reveals new ways to heal and grow as we come into alignment with our own true nature.
Course Outline


Module 1: Introduction to Reiki and Intuitive Plant Medicine
Learn about the heart centered journey of plant medicine and Reiki
Recap on Reik precepts and your journey so far
Connect with your heart space and your authentic story
Open up to nature
Module 2: Sacred Web of Life
Remember your sacred relationship with the natural world
Meet a guide for your Reiki Plant Journey - opening the portal
Self-treatment with the spirit of plants
Bring the outside into your Reiki practice
Module 3: Tools for Connection
Learn how to perceive the language of nature
Open your intuitive senses
Develop your intuitive sense of knowing and connection

Module 4: Healing Exchange
Discover plants and be chosen - diving through the portal
Sensing a plant's energy field
Give Reiki to a plant
Meet the spirit of a plant
Module 5: Self Reiki & Intuitive Plant Medicine
Experience self-healing with the power of plants
Self- Reiki treatment with intuitive plant medicine
Connect with the spirit of a plant for guidance
Module 6: Reiki your Nature
Honour the blessings and gifts with prayer
Beaming and write Reiki
Experience deeper connection with Reiki Drum journey
Module 7: Healing Green Spaces
Healing ourselves is healing our planet

Meet the spirits of nature where you live

Raise the vibration of your neighbourhood.
Bonus Content:
3 Day plant spirit Challenge - to help you wake up to the plants on your door step
Bonus webinar to help you take your journey with plants and reiki deeper
On-line Nature Reiki Attunement - to help you strengthen your connection with Reiki and the Plants.
"Plant Spirit Reiki is a delight to read and will inspire you to expand the scope of reiki in your life."
NICHOLAS PEARSON, author of Foundations of Reiki Ryoho
This heart centred journey of Reiki, plants and connection with the natural world is essential for our health and wellbeing.
Learn how to intuitively connect with plants in your environment and identify plants that can help your personal healing journey.
Be inspired to work with Rei

ki and nature to help raise the vibration of our home, this wonderful planet.
Connect with plants and Reiki to ask for guidance and discover how to use plants in your healing practice.
Deepen your understanding of yourself and come into alignment with your purpose, power and healing gifts.

What is included and how does it work?
7 Self-paced modules
Engaging video lessons with Fay
Simple exercises to deepen your Reiki and plant connection
PDF course notes
Worksheets for self-reflection and intuitive guidance
Exclusive audio meditations to help you relax and connect with plants on a deeper level to experience their wisdom and blessings
Weekly Reiki self-practice with plants
Lifetime Access
Study at your own pace.
Watch online or offline whenever you choose
PLUS
Facebook group with Q & A with Fay
Free Future Upgrades and invites to live classes
Option to certify and qualify for Reiki Level 2 Practitioner Training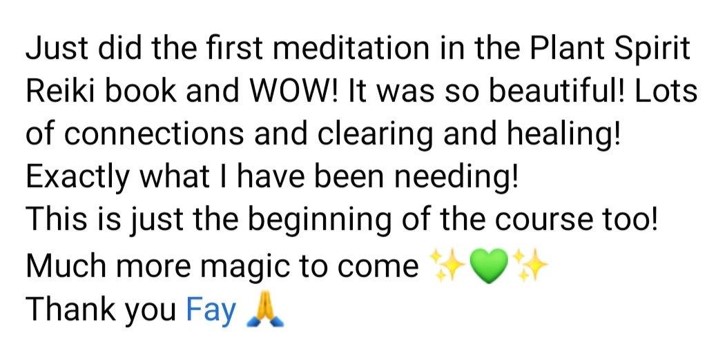 Your Instructor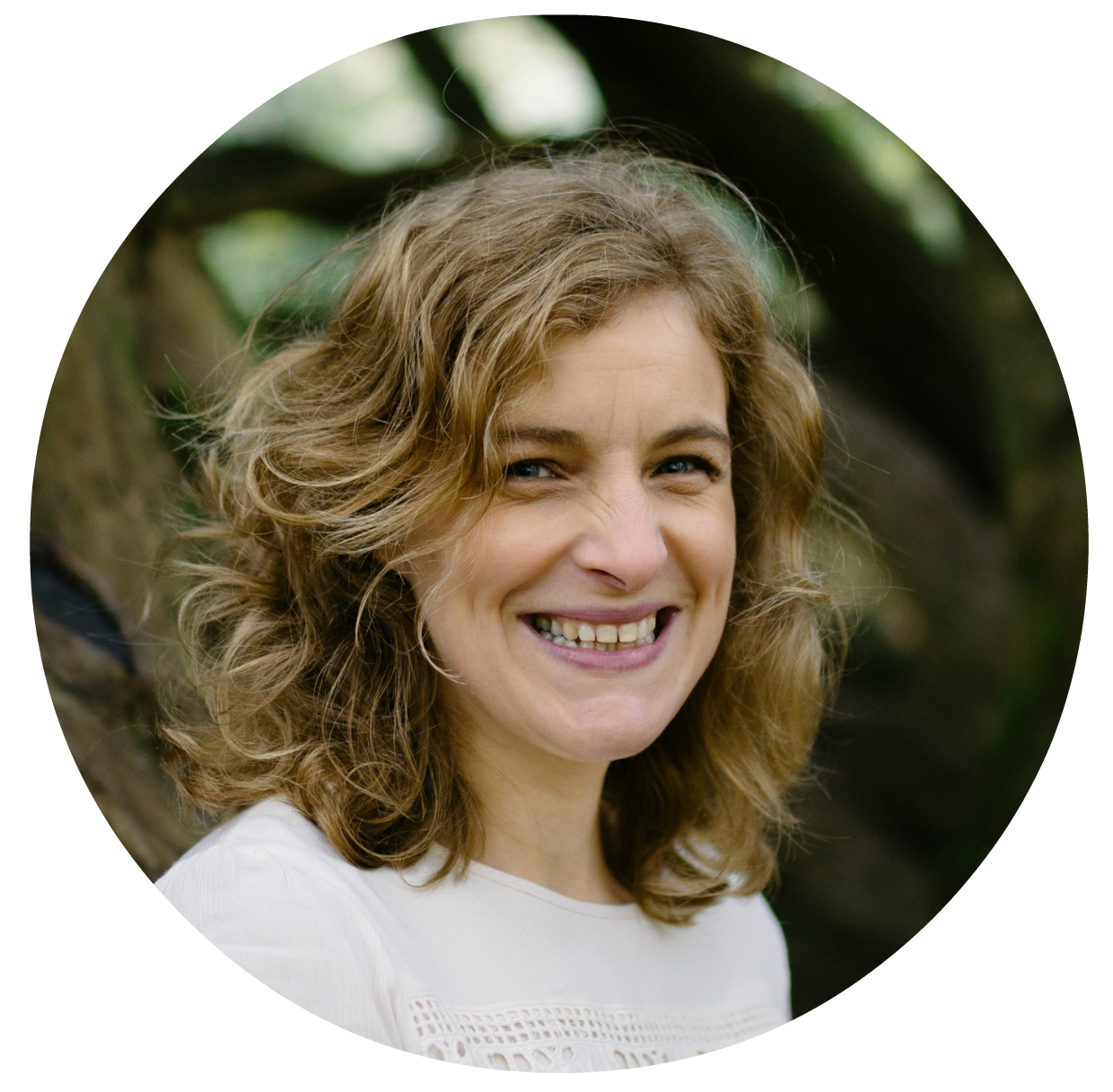 A practical Shaman, Reiki teacher and Plant-Spirit guide, I am passionate about connecting plants and people to help you rediscover your magic, heal and restore wholeness to your soul using the alchemy of nature.
I draw on my experience as a former owner of a flower and herb farm, 20 years of Reiki Practice and Shamanic Training to bring the subtle whispers of nature to assists you with the journey of your soul.
My spiritual allies include Reiki, meditation, gardening, plant medicine and Shamanic techniques. By honouring the seasons and elements, living in close connection with Mother Earth I believe we can feel supported and guided by the subtle ways that nature communicates and experience transformation and growth on both a personal and planetary level.
My workshops and courses aim to help participants learn Reiki or Shamanic techniques or connect with plants and nature in a meaningful, magical and life changing way. I also offer one to one healing sessions online and from my home in Scotland.
My books are available here: Plants that Speak, Souls that Sing and Plant Spirit Reiki
Visit www.fayjohnstone.com for more info!
Plant Spirit Reiki is for you if:
• You are attuned to Reiki Level 1 (or above) and feel ready to connect with the green kingdom for healing and support in your practice.
• You seek to develop your intuition and feel a deeper understanding of yourself and the world around you.
• You would like to incorporate plants, plant medicine, flowers, flower essences, herbal teas or nature in some way into your Reiki practice.
• You care about plants in your garden or home and natural environment and would like to work on a deeper level to help raise the vibration of our planet by sending healing where it is needed most.
• You'd like to share your plant spirit journey with a community of plant friendly folk who also love hugging trees and listening to their wisdom.
If your Reiki hands are ready to dance with the whispers of the Green World then Reiki your Nature is for you.

Thank you Fay for helping in restoring me and for helping bring back the magic, wonder and joy of nature! I feel as though a veil has been lifted! A huge celebratory day! A divine healing sacred gift from nature and from you!
Course participant 2021,
Frequently Asked Questions
I live in a city - can I benefit from this course?
Yes!! The exercises and practices in the program encourage you to start exactly where you are. If you don't have access to a park, woodland or other natural landscape, you are encouraged to invite the outside in. You can work with a house plant, and learn the same skills to connect with the spirit of the plant
I have no knowledge about plants or nature spirits I'm worried I won't understand.
No previous experience with plants is necessary. The exercises are easy to follow and have as much depth and meaning as you give them. You will have the opportunity to ask questions via the facebook group and during any live calls during the program.
Will this course help me work as a herbalist?
This practice connects you with the spirit of a plant, its vital essence. If you are seeking to learn about herbalism I encourage you to learrn from a herbalist in your local area to understand the medicinal properties of the plants where you live. The course will help you deepen your understanding and provide a more holistic view of plants rather than limit a plant's medicinal power to its physiological and physical characteristics. You will be able to create more potent holistic medicines using the approach in this course.
What if I already work with plants, plant spirits, spirit guides and/or nature beings. Is this going to be too basic for me?
No! If you feel called to join this course, there is healing to be done and a plant that is waiting for you. This course will encourage you to look at all of your current practices and ways that you work with spirit and with plants with fresh eyes and a new perspective. Our path to wholeness and working with spirit unfurls in layers and there is always something to learn from even what we might first perceive as simple teachings.
I might need some extra 1:1 assistance, is this something you offer too?
Fay also offers one to one healing, mentoring and shamanic coaching visit www.fayjohnstone.com for details.
How long do I have access to the course?
Lifetime access for as long as the course is running! You can access whenever you need to and also it's possible to download the content too.
I'm on the fence about joining and the investment feels huge, what should I do?
Consider Plant Spirit Reiki s way more than just a course. It is a way to live your life to feel a richer and deeper connection with the natural world and restore your soul. The teachings come with professional support and a supportive Facebook group where you'll be a voice not an echo among a community of like-minded plant people who understand and feel the same way you do about plants and are willing to share their Reiki journey with you.
I'm busy, and don't have much spare time to study, how long does the course take?
Each module is divided into short 20 - 30 minute sections so you won't find hours of video to watch in one go. The amount of time you take on the practical exercises and journal questions is up to you. The plant spirit path is like a spiral, it is not a linear process. The time that you put into the connections with the plants reaps rewards! You have lifetime access to the content so there is no hurry.
What if I am unhappy with the course?
We would never want you to be unhappy! If you are unsatisfied with your purchase, contact us in the first 30 days and we will give you a full refund.
I am not attuned to Reiki - can I still do this course?
This course is only available to those who are trained in Reiki Level 1 and above. If you would like to learn Reiki then please visit www.fayjohnstone.com
Green Magic awaits you!
I'm excited to guide you on this heart centred Reiki journey with our plant allies!